Overview
Edit
Previous: Shadow's Play
Next:
Knock It Off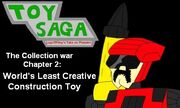 ...
Featured Characters
Edit
The chapter title is based on the K'NEX tagline 'World's most creative construction toy'. As much as he likes K'NEX toys, Legos found this statement to be highly inaccurate- not just because LEGOs creations are more realistic, but also because K'NEX parts have a frequent problem where the angles of the connectors sometimes result in impossible connections.
The excuses for the ReKonstructors Shadow and Ryder being incomplete (missing Shadow's torso and Ryder's instructions) are actually real-world reasons why they were only minimally featured in the chapter. Since the shooting of this chapter, however, Legos has located the parts and instructions, allowing for them to possibly be featured in the future.
Ad blocker interference detected!
Wikia is a free-to-use site that makes money from advertising. We have a modified experience for viewers using ad blockers

Wikia is not accessible if you've made further modifications. Remove the custom ad blocker rule(s) and the page will load as expected.