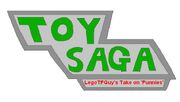 Toy Saga is a web-based photocomic created by LegoTFGuy. It details the mishaps of an action-figure version of LegoTFGuy and his collection of Transformers, BIONICLE figures, Hero Factory's, and even some ponies .
As of early 2015 the project was put on an indefinite hiatus due to the author realizing that it kind of sucked- the parody aspect of the series wasn't being played up enough, so it looked like the series was falling into negative tropes rather than making fun of them.
A reboot/continuation in the form of a series of stopmotion shorts is currently in pre-production with an unknown release date.
Backstory
Edit
Toy Saga was inspired by other Transformers-based photocomics, such as "Grimlock13's Attempt at Funnies" and "Sharkticomics ". It started as a series of one-shots that played into a basic overall storyline. Season 2 started with Comic 166. It introduced the Collection War, in which an evil entity from another universe begins rounding up toys whose brands make up only a small fraction of Lego's collection. The Collection War later ended in Season 3 with the defeat/destruction of the enemy brands. Most of Season 4 has been posted, however due to technical errors and time constraints it is currently on hiatus, leaving the last 1/4 of the 4th chapter and the entire 5th chapter unaired/edited.