Previous: Access Denied
Next:
Brick to the Future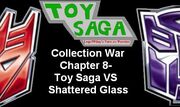 ...
Featured Characters
Edit
Shattered Glass Decepticons: Smolder, Lockdown, Ransack, Ratchet, Blackout, Barricade, Storm Cloud, Tailwind
Shattered Glass Autobots: Hot Shot, Hot Rod, Sideswipe, First Aid, Brawn, Wheelie, Jetfire, Beachcomber, Seaspray, Groove
Hot Rod
Sideswipe
Lugnut
PRIME Arcee
Ironhide
PRIME Ratchet
LegoTFGuy
Smolder with Chopster
Motormaster
Origionally just SG Wheelie was going to be left behind, but Legos later decided to have SG Sideswipe left as well.
The title is based on the theme of BotCon 2012 being described as "Classics VS Shattered Glass". It's also a reference to the cartoon Dan VS.