Overview
Edit
Previous: Knock It Off
Next: Rise of the Readers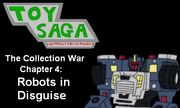 ...
Featured Characters
Edit
Bumblebee's upgrade was originally going to be a reward for not screwing up in Knock it Off, and he would've become a lot nicer as a result. Oh, and Battle Blades Bee was mainly bought for a comic appearance... even though he has only shown up in this form, like, twice so far.
After all the updates had been posted, a 'bonus update' was revealed. This comic pointed out several bits of foreshadowing throughout the chapter, and ended with Shawn Spencer from the show Psych wondering why he didn't see the foreshadowing before, to which Gus replies that Shawn was too distracted with some birds across the street eating bread.
Speaking of which, Shawn being distracted by birds eating bread in an entertaining fashion is based on a real experience by LegoTFGuy. I'm not even joking.
Ad blocker interference detected!
Wikia is a free-to-use site that makes money from advertising. We have a modified experience for viewers using ad blockers

Wikia is not accessible if you've made further modifications. Remove the custom ad blocker rule(s) and the page will load as expected.