Previous: Robots in Disguise
Next: Of Ponies and Minifigures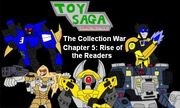 ...
Main Characters
Edit
The acromyn for this chapter spells 'ROTR'. Hey, it's easier to say that 'DOTM' or 'ROTF', and sounds less offensive than 'FoC'.
The position of Barricade was origionally given to Movie Bumblebee, but he was cut so that he could be with the other Bumblebees to freak out over AP101.
Sharktibolt mentioning SaberFrost01 was origionally foreshadowing for the latter reader to appear in the comic. However, due to him leaving TFW2005 for a time, the chapter he would've appeared in was replaced by 'Brick to the Future '.