Previous: Of Ponies and Minifigures
Next:
Toy Saga VS Shattered Glass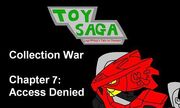 ...
Featured Characters
Edit
Unlike other chapters, this one didn't have much in the way of earlier titles. In fact, Legos didn't even HAVE a title for it until the last minute.
Though the fate of the Heroes isn't seen on-screen, Ratchet mentions in the next chapter that they are in rehabilitation.
One idea Legos had was for Surge to die from his wounds. At the funeral, Legos would have talked to Surge's ghost and vowed revenge on Motormaster.
Iron Man appears for one panel before being shot down. Niiiiice.
Ad blocker interference detected!
Wikia is a free-to-use site that makes money from advertising. We have a modified experience for viewers using ad blockers

Wikia is not accessible if you've made further modifications. Remove the custom ad blocker rule(s) and the page will load as expected.